Everything you need to know about starting a diaper cakes business...
Diaper Cake Business: Learn how to start a successful diaper cake business and earn an extra income.
Are you a working mom who wants to leave the 9 to 5 job, a stay at home mom who wants to find a way to make some extra cash while staying home with your children,
If you answered yes to any of the above questions, this diaper cake business course is for you.
Let me introduce myself, my name is LaTersa Blakely, of The LaTersa Blakely Enterprises, LLC, creativity is what I'm very passionate about. I totally get how frustrating it can be when you want to turn your hobby into a business. I had a big dream of owning my own company, but I had little to NO MONEY or INFORMATION. I reached out to several gurus in the diaper cakes industry, only to be told that they could not help me and wished me good luck. It took me a while to learn the ropes, and I spent a lot of money and wasted a lot of time.
Now, after ten years of being in business and building my customer base, I want to take you by the hand and help you start your diaper cakes business
Well, after becoming a mother and wanting so much to find a way to be home with my children and not have to worry about answering to a boss about why I had to take off to tend to a sick child, I set out on a mission to find something that I love doing and supplement my income at the same time. So, I took a leap of faith, and started my first company, "The LaTersa Diaper Cakes™
Introducing My Complete Diaper Cakes Business Course
What will you learn?
The ins and out of a successfully made diaper cake
What it takes to start and grow a diaper cakes business
How to properly ship a diaper cake
How to make money in your diaper cakes business
How to scale your business with corporate contracts
What you need to set your business up legally
How to price your diaper cakes step by step
Best places to sell your diaper cakes
How to write your pitch letter to companies you want to work with
How to use social media to grow your business
How to build your list
How to market your diaper cake without the fees of a website
Tips of organizations where you can get grants or start-up money for your business in my welcome video
Wholesale companies where you can get your products for a fraction of retail prices in my ebook
and so much more
Bonus#1: For the first five to take advantage of this great offer, you will get one 30-minutes consultation with me (a value of $150)
Bonus#2: Gift Business Startup & More eBook (a value of $10)
Congratulations, you have just found everything you need in order to start a successful diaper cakes business all bundled up in one total package. (Email me once purchase)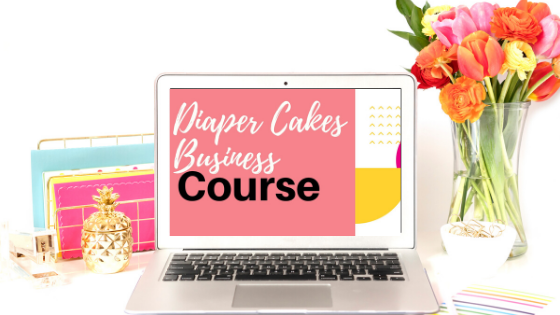 You will be able to....
Have more flexibility
Eliminate Childcare Expenses
Spend more time with your family
Earn an extra income
Be your own boss
Use Alternative ways to market your diaper cakes without the expense of a website
Attend your child's field trip at school
Turn your hobby into a profit
Take more vacations
Design a gift that new moms will love
See what my previous clients had to say about the course...
"I have been making diaper cakes for over two years now but since I began making diaper cakes using your home study system, my cakes have been 10 times better and it has saved me Sooooo Much Time! From start to finish, this system has provided me with the techniques to not only start a reputable diaper cake business but also to create beautiful products that will guarantee an increase in customers which means an increase in my business revenue. I also learned how to make new gifts that are sure to be the conversation piece at every baby shower! This system is definitely worth the invest for individuals looking to start a diaper cake business or expand their current business!"~ S. Pittman

"If you are interested in starting a diaper cake business, this home study system is a must have to get you well on your way! Latersa is so patient and motivating! She's willing to answer any questions that you may have without making you feel quote "dumb!" I would definitely recommend this system to others! Thanks Latersa!" ~S.Stokes

"LaTersa, I really enjoyed your home study system on "How to start a diaper cakes business. The system shows a simple and cost effective process to start your business. I had many ideas for my business but did not have the money or know what avenues to take. After watching your tutorials, the information led me in the right direction and I got a few ideas on new gifts to add to my inventory as well. Thanks so much!" ~L. Moore